Do you have something to say?
Send your news, views and criticism in not more than 150 words to Socialist Postbox, PO Box 24697, London E11 1YD, phone 020 8988 8771 or email [email protected]
We reserve the right to shorten and edit letters. Don't forget to give your name, address and phone number. Confidentiality will be respected if requested.
Views of letter writers do not necessarily match those of the Socialist Party.
---
Rhyheim RIP
On 5 May a 17-year-old lad was shot dead just up the road from where I live. His name was Rhyheim.
I didn't know him but I know the area very well and just an hour or so later I walked nearby to where he was shot as I made my way to an early evening do in Camberwell.
Rhyheim now joins a tragic list of dozens of young Londoners who have been killed this year either by knife or gun. They were all so incredibly young and no doubt incredibly loved by family and friends. Their untimely deaths will affect thousands – family, friends, schoolmates, neighbours and communities.
As politicians cry crocodile tears and well-heeled commentators ask "why?" other young Londoners will be taken as well.
But those of us who really live in London know why. A decade of austerity has sucked hope from communities across London and those that thrive on hope the most are the youth. The very essence of being young is hope for the future, a future, some future.
But if you deliberately take that away what do you have? You have despair, and that leads a minority into mayhem and murder. And being shot dead on a beautiful, sunny Saturday evening in Kennington.
So who is to blame? Well, I blame all those lickspittle careerist politicians who have accepted the mantra that austerity is the only way. I blame all those who have voted to decimate local youth services and rid our communities of skilled workers who can nudge young people down more positive paths.
I blame all those who support an environment where food banks, zero-hour working and grinding poverty are the normal state of affairs for so many Londoners. I blame them all.
I was a young Londoner once, and I had hope, and luckily I still have hope. I suspect that Rhyheim had hope but I imagine that hope has long been gone from his killers.
And now all that is left is another ocean of tears – but also the burning need to build a truly fair and equal and socialist society, that returns hope to the youth and allows them to dream, and to be free, and to be themselves.
Steve Nally, Kennington, south London
---
Disability benefit cuts
Few people realise that mentally ill people receive 'severe' and 'enhanced' disability benefit premiums under the current system. That will change with universal credit.
This will result in a loss of £2,000 per claimant per year. This effectively takes disabled people to the same level as the current jobseeker's allowance – a pitiful amount that no one can live on.
I use my premiums for therapeutic interventions that help keep me 'well' and out of the Hartington Unit at Chesterfield Royal Hospital – a place that costs the NHS £1,000 per patient per week, even before any treatment. When my money is cut I will be in a state of distress and I will find myself needing the Hartington.
My circumstances have changed since my last stay there 22 years ago, as now I have no support that I could possibly be discharged to. Sadly, I feel it would be a considerable time, possibly years, before I could safely be discharged.
Simply put, the present government is out to destroy me, and I will make a fight of it to the end.
Adrian Rimington, public governor, Derbyshire NHS Trust and chair, Disability Campaigners (personal capacity)
---
Regulate or expropriate?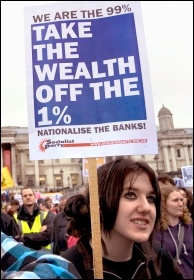 We are the 99% – Take the wealth off the 1% Socialist Party placard, photo Paul Mattsson (Click to enlarge: opens in new window)
A recent opinion piece by George Monbiot in the Guardian rightly takes to task greedy corporate bosses at Carillion, who after bankrupting the company and its £2.7 billion pension fund didn't simply walkaway scot-free, but laughed all the way to the bank.
He cites the example of Carillion finance director Richard Adam, whose company share values were allegedly inflated by "accounting tricks" until the day he sold them. Weeks later, their value had crashed by three-quarters.
Monbiot suggests that corporate bosses should have 50% of their massive remuneration packages held in an escrow account. An 'independent' third party would then judge whether or not the boss should receive this 50% based on the company's performance.
Monbiot says this is only a tentative proposal and invites readers to suggest alternatives. Well, obviously only a left-wing government would consider implementing such a plan. But why then would it stop there?
With a public mandate a left government could nationalise the major companies and finance houses and subject management to the democratic control of representatives of workers and government. That way, those in charge will be fully accountable to society and fat cats will become a thing of the past.
Simon Carter, Forest Gate, east London
---
Prince Charles irrelevant
The accession of Charles Windsor to the leadership of the Commonwealth has been portrayed – at least by the more toady sections of the press – as a great victory for monarchism.
Nothing could be further from the truth. The choice of Charles Windsor as a new figurehead underscores the irrelevance of the Commonwealth.
The Australian government for example couldn't care less whether Mickey Mouse or Goofy became head of the Commonwealth. In the terms which count to Australian big business – ie dollars – trade with south east Asia is more important than clinging to the remnants of Empire.
Charles makes George III look like a model of sanity. According to legend, George made a tree on his estate prime minister. Charles regularly talks to his plants. If you find he tries to replace May with a hawthorn don't say I didn't warn you.
It is way past time to sweep away these royal parasites.
Derek McMillan, Worthing
---
EU toilet law
The EU rail law 1300/2014/EU, entitled 'Persons with reduced mobility' (PRM), proudly states: "When toilets are fitted in a train, a universal toilet shall be provided accessible from the wheelchair space." The rather glaring loophole is that there is no requirement to have toilets on a train at all!
The Wales and Borders train franchise is currently operated by Arriva Trains Wales, a subsidiary of the German company Deutsche Bahn. A lot of Arriva's stock is rather old and creaky, not least the 1980s 'Pacers' which only have four wheels per carriage and make a horrible squealing noise when the track curves.
These trains' toilets do not meet these disability accessibility requirements, which have an implementation deadline of 2019.
As yet, Arriva has given no firm date for replacement of the outdated Pacers, and it's certainly not going to be before next year. Ian Walmsley, a retired train engineer who was manager of the Valley Lines fleet under British Rail in the 1980s, said: "There are two principal costs to PRM in a Pacer – the toilet and the passenger information system.
"The latter costs about £2,000 per vehicle, so not too much. The toilet is big money as it has to go mid-vehicle. The obvious answer is to lock them all." So there we have it. Rail privatisation and the greedy profiteering of Arriva is likely to mean we can't even use the loo on the train!
I take the train to work every day, and suffer from irritable bowel syndrome. It could potentially cause me a serious problem to be unable to access the toilet on the journey.
Effectively this would mean the company has reduced its disabled access in order to comply with what is supposedly accessibility legislation – a damning indictment of the rail privatisation agenda of both the neoliberal EU and the Tories.
The only way we can have good quality, reliable, comfortable public transport is to bring the entire system under public ownership and democratic workers' control, with not a penny in compensation for the privatising parasites.
Joe Fathallah, Cardiff
---
Fight developers' charter
Changes to planning law brought about by the Localism Act 2011 were supposed to give communities the opportunity to shape development in their area. Developers were supposed to consult local communities before submitting a planning application.
Increasing democracy and giving members of the public greater influence over the big decisions that affect their lives were supposed to be the hallmarks of the new legislation. What a failure. What a lie. Let me tell you my story…
I live in a perfectly ordinary part of York. Our quiet, narrow little street has a diverse mix of residents from young families, students and the elderly. At the corner stands a Wesleyan Methodist chapel from the early 1880s.
Since the 1970s the chapel has been used by the NHS as office space. But, recently, it has been sold due to being surplus to requirements.
We heard rumours that a developer wanted to convert it into a supermarket. Concerned by the potential for increased traffic, we approached the council to raise our concerns.
We were told to wait until a planning application had been made. We were impotent. All the while the developer was engaged in exclusive discussions with planning officers. When the application was submitted it would be recommended for approval, despite there being no public consultation.
But it gets worse. Local councillors refused – point blank – to discuss our concerns. They likely didn't even read the many objections that had been submitted.
They were led by officers who are overworked and fearful of repercussions from the developer's army of solicitors if approval isn't granted. Residents were cast aside as an irrelevance – almost a nuisance in the process.
This is not unusual. This is how the planning system works. Residents have no voice. Change planning laws. Everyone should have a say and be heard.
Please help by signing our petition: petition.parliament.uk/petitions/216751
Andrew Dickinson, York