South Wales Stagecoach bus drivers win £10.50 an hour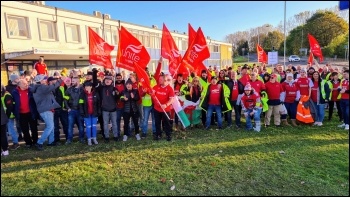 Stagecoach workers' picket line in South Wales
Dave Reid, Socialist Party Wales
After 17 days of strike action Stagecoach members of Unite at Cwmbran, Blackwood and Brynmawr depots have voted to accept a deal that wins a £1 an hour rise to £10.50, backdated to April. Attacks on sick pay and rights for new starters were also fought off.
Stagecoach had offered a measly £10.10 an hour which would be paid for by the workforce themselves through cuts to paid breaks and sick pay. The company claimed that that was the final offer but over four weeks of strike action was forced by the solidarity and determination of the workforce, to make concession after concession, until the rights of new starters was the only sticking point.
The workers demanded that new starters would also get the new pay rate and retain paid breaks. If breaks were unpaid then drivers would have to wait at the depot for their next job for up to two hours without pay – in effect a pay cut of £20 to £30. Management had agreed to limit the lower rate to two years, but workers realised that that would still create a two-tier workforce. However Stagecoach caved again.
On the 17th and last day of strike action in the first phase the managing director came out of his office to discuss with pickets, obviously hoping to probe weak points. The strikers made it absolutely clear that they would stand firm.
If the manager was hoping to see cracks in the strikers' determination then he was sorely disappointed. "We are offering you £10.50, what does it matter to you what new entrants get?" he asked
"It's not just about us as individuals – that's what you don't understand", said one of the drivers, John. "It's all about the collective. The new starters should have the same pay and conditions as us. We will not accept it. Simple as that.
"I am only here for another two and a half years but I'm fighting for their rights. They are the ones who will be here for ever and a day afterwards, and we should not be selling them down the river and we are not going to do it."
"If the new starters are paid £10.30 an hour, in a few years that will be minimum wage for having the responsibility of passengers' lives in their hands", another said.
"I don't care if we are out until the new year, we won't give in on new starters", Darren told him.