Sheffield
I attended Sheffield's March for Midwives protest on 21 November in solidarity with my sister, a midwife at Barnsley Hospital, and her colleagues. Having provided care to women, babies, and their families throughout the pandemic, many midwives are at breaking point as the Tory government refuses to address staffing levels. Midwives have been intimidated and even threatened with legal action by NHS management for speaking out about the crisis in maternity wards across the country.
But midwives, working through their breaks and staying on past the end of their shifts to make sure that women and babies receive safe levels of care, have reached breaking point. Hundreds of protesters came out in solidarity with midwives and listened to first-hand accounts from NHS staff and new mothers about the dangers of running maternity wards without sufficient resources.
Midwives are not asking for much, just the tools to practice their job safely. Most of their demands focus on the very basics: ensuring a sufficient number of midwives are trained and retained. With the changes outlined in the Health and Care Bill looming, the last thing maternity wards need is another round of reforms that see further parts of our health service carved up in the interests of profit. This protest is yet another reminder of the need to stand shoulder-to-shoulder with all frontline workers.
Declan Kenny, Sheffield Socialist Party
Hull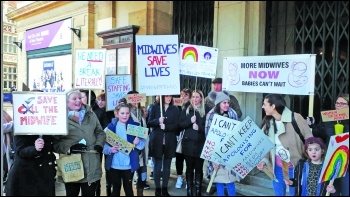 Midwives marching in Hull, Photo: Ted Philips
"Investment in our future starts in the womb" and "Stop conveyor belt care" were among the messages on placards at the March for Midwives protest in Hull, one of many around the country.
Socialist Party members joined the lively march of around fifty midwives and young families demanding an urgent increase in funding for maternity services. A recent survey by the Royal College of Midwives found that 57% are considering leaving the profession with dangerous staffing levels and overwhelming workloads, leaving midwives unable to cope.
One mother, who joined the protest with her two-month-old baby, described how the midwives caring for her were so understaffed they regularly had to stay several hours beyond the end of their twelve-hour shifts. The underfunding of the NHS is putting our lives at risk. We call for a reversal of all cuts and privatisation, and a 15% pay rise for NHS workers.
Lucy Nuttall, Hull Socialist Party