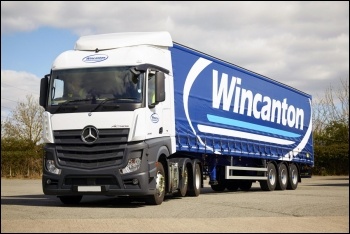 Jon Dale, Chesterfield Socialist Party
A slice of pizza and a bacon butty was all Wincanton bosses thought workers deserved in reward for working throughout the pandemic. 460 Unite members are now on strike at Worksop, North Nottinghamshire, the main warehousing and logistics site for B&Q.
Unite senior reps Patrick McGrath and Dave Staniforth outlined the background:
"Workers are demanding a cost-of-living pay rise – not the 4% offered, a pay cut in real terms. They are also fighting management's attempt to undermine their union. Reps have been threatened with false disciplinaries, and redundancy, and bosses even tried to pay off a senior rep to leave.
"In the past the union has got agency workers paid at the same rate as new starters, £9.96 an hour instead of minimum wage. Kingfisher (B&Q's parent company) and Wincanton have seen massive profit increases in the past year. The workers who have made this possible are determined to win.
"They plan a week on strike followed by a week's overtime ban, running up to Christmas. If the company hasn't conceded by then, there may be an all-out strike in the New Year – normally the busiest time. B&Q stores will start running out of some lines by next week.
"Over 100 have been present at times on the 24-hour picket line, on the site of the former Manton Colliery. The last time mass pickets were here was the 1984-85 miners' strike. Police have not been seen this time, except for one patrol car that stopped to find out what was going on – and then wished the pickets good luck – very different to the mass police presence last time!"