BUILD FOR THE DEMONSTRATION AND LOBBY OF
PARLIAMENT ON 1 NOVEMBER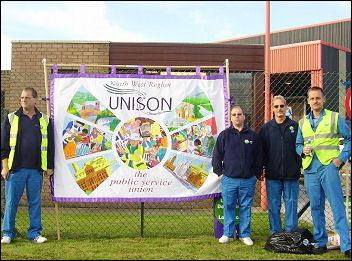 NHS logistics workers on strike
THERE HAS been yet another week of protest from health trade
unionists and campaigners all over the country. Nottingham had 3,000
people on the streets opposing hospital closures and cuts while between
5,000 and 7,000 marched in Hastings.
Lois Austin, Southwark Keep our NHS Public
NHS Logistics workers held a solid strike in all five depots,
opposing the take-over by the courier company DHL on 1 October (more on
page 11). Workers in other parts of the health service are warming up
for industrial action in response to compulsory redundancies and
privatisation.
Over the next few weeks, protests are planned in Oxford, Banbury,
Epsom, Redditch and Southampton. Some important victories are being won.
The Stroud birthing unit has been saved from closure due to a
vociferous campaign of health workers and local people.
Other areas have won a temporary stay of execution for their local
hospital; these campaigns now need to fight to ensure they keep their
hospital and NHS services for the long term.
Cuts and closures planned everywhere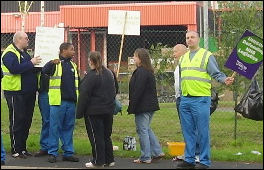 In their speeches to Labour Party conference, both Blair and Gordon
Brown made it clear that they intend to push ahead with their 'reform
agenda'. 'Reconfigurations', a polite way of saying cuts and closures,
are planned everywhere.
At a lobby of London's Strategic Health Authority, London Health, on
25 September, pensioners and health activists were told: "There will be
no flexibility when dealing with deficits and hospitals in deficit will
not be baled out".
This means there will be more swingeing cuts to London's hospitals,
as Trusts attempt to balance their books. The new chief executive of
London Health also confirmed her commitment to privatise, saying that
she wanted to develop government policy of "payment by results" and
"choose and book".
There are protests and meetings to save the NHS in so many localities
that it is reminiscent of the early days of the poll tax struggle. A
national voice and focus is desperately needed to unite the local areas
and take the fight to central government.
TUC NHS Together campaign
The TUC NHS Together campaign is a belated, but nevertheless welcome
development. We need to ensure there is a mass turn-out from health
campaigners and workers all over the country for the TUC lobby of
parliament on 1 November.
In support of the TUC lobby, the National Pensioners Convention
Greater London region has called a feeder march. The march has the
support of local campaigns, NHS Logistics union reps, striking health
workers at Whipps Cross hospital and many others.
This march could be exactly what's needed to bring people together in
a public show of strength in defence of the NHS. Build the TUC lobby,
come on the march, bring your banners and get your organisation to
support it.
For leaflets, posters and petitions to build the feeder march,
contact Lois Austin, 07765 848444, or email


[email protected]