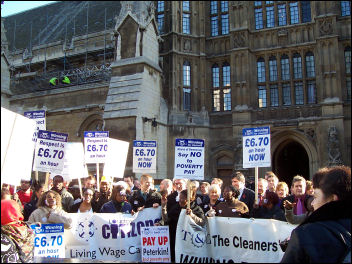 House of Commons Cleaners on strike in 2005, photo Chris Newby
There are jobs going at the House of Lords at the moment. You would think they would be quite good jobs, after all we taxpayers fork out millions every year to keep parliament going. But the truth is shocking – the jobs advertised are for commis chefs, starting salary £14,891 and kitchen porters, starting on £14,160 – barely more than the minimum wage.
Alison Hill
So, surrounded by the grandeur of the House of Lords, the workers who keep the place going are forced to live on poverty wages.
Compare this life to that led by their lordships. One of the newest, Baron Mandelson of Foy and Hartlepool (just call me plain Lord Mandelson) was sworn in earlier this month. He can claim about £300 a day tax free expenses, just for getting his name ticked off on the Lords register. And, of course, he'll get £78,000 a year for the next three years in transitional payments from his previous job at the EU, on top of his ministerial salary of £104,386.
He can claim £15,000 to 'relocate' from Brussels to London and a £31,000 EU pension when he's 65. And that lot is probably just the tip of a giant cash iceberg with Mandelson's name written on it.
But it's not just the immense amount of money Mandelson always seems to be able to lay his hands on that has angered us who live in the real world. The scandals surrounding his recent antics on Corfu yachts have briefly lifted the lid on the life lived by the very rich and their parliamentary friends.
Mandelson met billionaire Russian Oleg Deripaska on his 283-foot yacht in Corfu this summer. Mandy apparently confessed to his friends he was "billeted" on the yacht because there was no room at any of his financier-friend Nathaniel Rothschild's five houses on the island. No sleeping on his mate's sofa for Mandelson.
Tory fundraiser George Osborne was also yachting in Corfu at the time, schmoozing Deripaska and meeting his old friend from the Oxford University Bullingdon Club, Nathaniel Rothschild.
The Bullingdon is a drinking club. Its members specialise in booking a private room in a restaurant, getting very drunk, throwing up everywhere and trashing the room, then paying off the proprietor in large denomination bank notes. If it existed on a council estate, most of its members would be in prison, or with an Asbo, after its first meeting.
The rich really do live in a different world to us. They have giant yachts but also their own islands. They commute between them by private plane and helicopter, they don't even sit in the same traffic jams as us.
Politicians gather round them, revelling in that billionaire world, trying to snatch what they can for themselves and their political parties.
What a world capitalism has created – people struggling on poverty wages in all of its key cities, whilst the rich play on, unencumbered by the rules and laws in the world we have to live in. And when their greed and speculation goes too far, ordinary people are expected to bail them out.
It's time for a change… Time for a socialist change