HANDS OFF OUR POST!
Workers' action to stop privatisation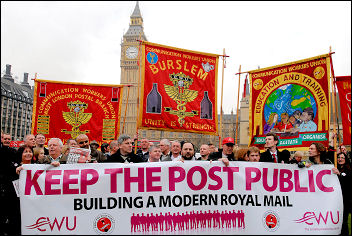 Communication Workers Union lobby of parliament Feb 09, photo Paul Mattsson
BUSINESS SECRETARY Peter Mandelson, like a creature from the lagoon, is pressing ahead with Labour's Postal Services Bill, claiming that only the 'expertise' of the private sector can 'modernise' Britain's postal services.
Chris Moore, Save Our Post Offices organiser
Mandelson has said there is no turning back from privatisation and has accused the CWU postal union of dishonest "scare tactics" over its opposition to the government's sell-off plans.
While private banks are nationalised, the government says the £1.2 billion deal in 2007 for public investment in Royal Mail for modernisation is not working and is offering a 30% stake in Royal Mail's parcels and letters business to private firms.
But in a global recession private finance is anything but secure. In Germany in 2007, when economic conditions were less severe, the private postal system saw seven of 91 postal companies go bankrupt. The Netherlands private postal company TNT group's profits plunged 37% in 2008, leading to an €400 million cost-cutting programme and a further slashing of jobs and office closures.
Mandelson and Gordon Brown insist this is not a step to full privatisation, because the Post Office Limited network is protected and new legislation would be needed to privatise more of the postal system. In the Netherlands the government similarly sold 30% of the state owned postal company. However, by 2006 it was wholly privatised.
Brown and Mandelson claim privatisation is the only way to save the universal service, meaning letters collected and delivered anywhere in the UK for a single price. In fact privatisation is the biggest threat, as profit hungry vultures vie over the profitable postal routes. Outlying and rural services would be most at risk as private firms drive to cut costs.
Royal Mail's profit hungry bosses are desperate to introduce more business methods such as zonal pricing, meaning different charges depending on where post is being sent. In Germany's privatised postal system there is growth of regional only postal companies.
Already the government have rigged the terms for multinational companies like TNT, DHL/UK Mail and UPS to compete with Royal Mail, and in turn they have cherry-picked the most profitable areas like the collection of bulk business mail. They take it to mail centres where it's left to the publicly owned Royal Mail to do the last leg delivery.
Introducing business methods and privatisation means cost cutting comes before the quality of service. Royal Mail's business plan aims to shut nine mail centres, while its profits come mainly from squeezing workers' pay and conditions. Inevitably service suffers as privatisation increases.
In Sweden, half the post offices were shut after privatisation and prices doubled. Mandelson says the six-day delivery service is safe, but TNT, the only company to have publicly shown an interest in the government's offer, deliver only two days a week to some locations in their home country, the Netherlands.
Privatisation means more fat cats while customers face higher charges. Despite its business orientation Royal Mail's cost of delivery is 27p per item. The equivalent figure for Germany's privatised Deutsche Post, the owner of DHL, is 40p and TNT 43p.
Private finance is an extremely inefficient way to improve investment in industries. The full cost of PFI (private finance initiatives) to build NHS hospitals can be many times the cost of public agreements. Also, publicly owned structures are broken up into a myriad of competing firms each with their bureaucratic structures.
Labour's Bill would mean the government funding Royal Mail's pension deficit of £250 million a year, leaving a service even more attractive to private buyers.
Labour's backbench MPs' protests will not halt the privatisation drive, as the Bill will be supported by the Tories. A fightback from the CWU postal workers' union, including any necessary industrial action, is needed.
The CWU's promise to ballot members on withdrawing funds from Labour if privatisation of the postal system goes ahead should now be implemented. The CWU should disaffiliate from Labour and join the campaign for a new workers' party.
No to any sell-off
No more "savings"
For a non profit-making public service
A 35-hour week
Restore the final salary pension
No to any pay freeze, for an above-inflation  pay rise
Stop funding the Labour Party, we need a new mass workers' party