PDF
|
Audio
|
2018 Back issues
---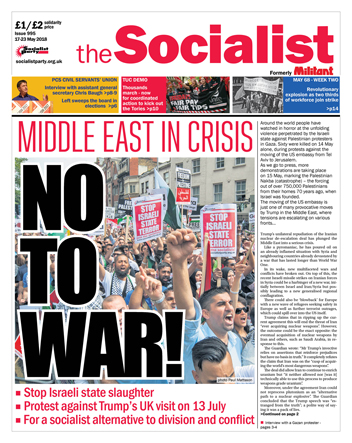 Click image for PDF

Middle East in crisis
Around the world people have watched in horror at Trump's rejection of the deal with Iran and the unfolding violence perpetrated by the Israeli state against Palestinian protesters in Gaza – 60 were killed there on Monday 14th May alone, during protests against the moving of the US embassy from Tel Aviv to Jerusalem.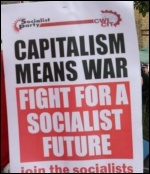 ---

Exclusive interview with Gazan activist: "The more they kill us, the more the anger increases"

May 1968: Revolutionary explosion as two thirds of workforce join strike
France, May 1968: week three: On Saturday 18 May 1968, General Charles de Gaulle, president of France, was forced to cut short his state visit to Bucharest.

PCS conference 2018: building on the union's militant record
Socialist Party member Chris Baugh – three times elected PCS assistant general secretary – will again be seeking the support of Left Unity to be its candidate in next year's election. Here he talks (in a personal capacity) about his record and the major issues facing the union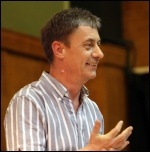 ---

PCS elections – Left sweeps the board
Socialist Party news and analysis

Tories' continuing EU quagmire is Corbyn's opportunity
No-one is at the helm of the government's plan for Brexit. There is chaos at every level of the capitalist state as it threatens to crash out of the EU.

Royal wedding opulence… during longest pay squeeze in 200 years

Richest worth £724bn… as 100,000 kids fall into poverty
Sunday Times Rich List 2018: £724 billion. This is the combined wealth of Britain's 1,000 richest.
Socialist Party workplace news

Strike at Tesco Dagenham for better pay
Workers at Tesco Dagenham distribution site are striking over pay from 10pm on Thursday 17 May. Following over a year of negotiations between Tesco and the retail and distribution workers' union Usdaw, bosses have refused to improve their initial offer which was worth less than 3%.

Belgium Lidl strike victory

Lively Hull demo against college cuts
A lively demo of over 100 marched in Hull on 12 May in support of staff and students facing redundancies and cuts to Hull FE college. Some demonstrators travelled long distances to voice their opposition to the cuts.

Harrogate College strike against cuts
University and College Union (UCU) members at Harrogate College took strike action, coordinated with their colleagues in the Hull College Group at Hull College, against proposals to axe jobs. 9 May was the first strike day, with two more to follow.

Leeds Acas conciliators walkout
You know the squeeze in the public sector is coming to a crunch when workers for an organisation that was set up to try to prevent strikes walk out on strike themselves. But that was precisely what happened as conciliators at Acas took strike action on 11 May.

Workplace news in brief
Workplace news in brief including TGI Friday's strike and an update on the FCC Wilmington dispute
Socialist Party reports and campaigns

Thousands march on TUC demo
A huge Socialist Party "Tories Out!" banner greeted 20,000 demonstrators at the end of the Trade Union Congress (TUC) organised march and rally in central London on 12 May

'When we fight, we can win' – campaign halts hospital closure

Chesterfield May Day: march turnout great
Glorious bank holiday weather brought a high turnout to the 40th Chesterfield May Day march and rally, where Unite's Len McCluskey and the National Education Union's Kevin Courtney delivered strong messages that the labour movement must fight back against austerity and a weak Tory government

Save Our Square takes fight to developers
On 9 May, Socialist Party members who are part of the Save Our Square campaign in Walthamstow, east London, lobbied the annual general meeting of Capital & Regional (C&R)

Save Southall Town Hall legal hearing success
The Save Southall Town Hall campaign won the first round of a legal challenge on 19 April to defend this iconic building, and to preserve it as a genuine public and secular space for all members of our community

Ronan Point disaster 50 years on
On 16 May 1968, 50 years ago, Ronan Point, a high-rise tower block in Newham, east London, collapsed killing four people and injuring 17
International socialist news and analysis

Spain: Student general strike against sexist, capitalist 'justice' system
The general student strike on 10 May, called against the shameful light sentencing of the 'wolfpack' rapists, was a great success. More than one million students emptied classrooms and more than 100,000 attended over 60 demonstrations

Sweden: Socialist elected leader of 77,000-strong tenants' union

The Socialist Inbox
Letters to the Socialist's editors including antisemitism, Chris Fernandez and gentrification