PDF
|
Audio
|
2019 Back issues
---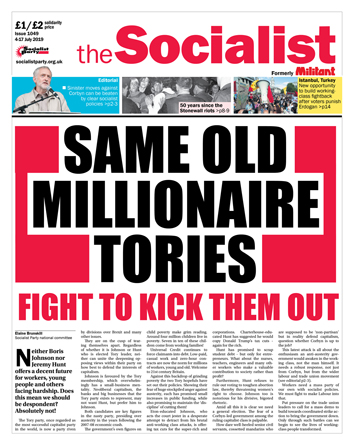 Click image for PDF

Angry Usdaw members strike at Sainsbury's distribution centre over sick pay cut
Dozens of members of shop workers' union Usdaw picketed Sainsbury's Waltham Point distribution centre in Essex for most of their 24-hour strike against changes to sickness policy.

Sick of your boss? Join a union! Fight for socialism
My current employer has not given its workforce a pay rise in over three years. The health and safety regulations are breached on a daily basis.

Construction workers protest in defence of union rights and against anti-worker EU
70 steel construction workers from Humberside and Yorkshire gathered outside Siemans' Turbine Factory, in Waterside, Lincoln on 28 June, to protest in defence of their trade union-agreed 'national agreement for the engineering construction industry' (NAECI).

Socialists in PCS union launch new group to fight general secretary election
A new group has been formed within civil service union PCS's Left Unity grouping. The Broad Left Network is a campaign for a fighting, democratic union made up of socialists and supporters of PCS Left Unity.

Steps forward and missed opportunities at Unite rules conference
General union Unite's 2019 rules conference made some important steps forward but missed opportunities to develop member participation. It also passed amendments that could be dangerous to the left in the future.

London Arriva bus drivers vote for strike action over bullying and workload
London bus drivers have had enough! In a consultative ballot of Unite the Union members at Arriva, drivers voted overwhelmingly for industrial action.

Birmingham school strike for safe working environment

Lancashire Stagecoach drivers continue their fight

Birmingham uni workers strike against terms and conditions attacks
Unison members working in catering, cleaning and security held a well-supported one-day strike at the University of Birmingham on 28 June. They were protesting against the removal of premium payments for weekend and anti-social hours and reduction of holiday entitlement by a week.

Sinister moves against Corbyn can be beaten by clear socialist policies
And then there were two. The Tories are entering the final stage of their leadership contest, with the choice between Johnson, the want-to-be British Trump and Hunt, the NHS wrecker.

Same old millionaire Tories – Fight to kick them out
Neither Boris Johnson nor Jeremy Hunt offers a decent future for workers, young people and others facing hardship. Does this mean we should be despondent? Absolutely not!

Nationalisation is answer to Southern Water cover up
An investigation into Southern Water by the industry regulator Ofwat has demanded that the company pay a £126 million penalty package, the largest it has ever imposed. The Environment Agency is now also looking into pressing criminal charges.

Gig-economy exploitation doubles
The 'gig economy', formerly known as 'casual labour' – and much beloved of the dock employers for hundreds of years worldwide, is on the rise. Tony Blair famously called it "the flexible workforce".

Even social-care bosses say cuts have gone too far
Jeremy Hunt, in a masterful understatement, said: "I think, having been responsible for health and social care, that some of the cuts in social care did go too far."

Them & Us
It's one world for the super-rich and another for us.

What we saw
Times journalist James Kirkup asked this: "Why aren't the wannabe PMs talking about in work poverty?" on 26 June. The Tories aren't, but the Socialist is.

Stonewall riots' legacy shows need for socialist struggle to win LGBT+ liberation
Pride events around the world this year are celebrating the 50th anniversary of the Stonewall riots, widely seen as the birth of modern LGBT+ rights movements.
Socialist Party reports and campaigns

Socialist Party secures new offices
We are very pleased to announce that the Socialist Party has found new premises! After renting our old premises for nearly 20 years we have bought our new building which will be a big asset for our party.

Angry Barking residents protest outside sales office
On Saturday 29 June property sales offices at Barking Riverside, London – the site of the recent horrendous fire that consumed 20 flats in just a few minutes – were closed due to a well-attended residents' and supporters' protest.

Tamil Solidarity Day: Linking up oppressed people's struggles
This year's Solidarity Day meeting took place on 29 June in London.

Coventry says no to congestion charge
Coventry's Labour council has spent two years drawing up a plan to tackle nitrogen dioxide hotspots in two parts of the city.

Carlisle Labour/Lib Dem coalition cuts care home beds
A hastily organised protest by Carlisle Socialist Party spoilt a self-congratulatory publicity event by the Labour/Lib Dem coalition running Cumbria county council.

Sell the Socialist and take out an e-subscription
Socialist Party members play an important role – in some cases leading them – in local and national fightbacks against Tory austerity and in trade union strikes.

Lincoln Uni NUS disaffiliation: a question of on-campus democracy
At their last meeting as members of the University of Lincoln Student Union's Board of Trustees, the elected executive committee members put a motion through removing the student union from the National Union of Students (NUS), effective from 31 December.

Stourbridge: Keep our college!
On 29 June, around 400 education workers, parents and supporters marched through Stourbridge to protest against the looming closure of the town's further education college.
International socialist news and analysis

New opportunity to build working-class fightback after voters punish Erdogan
Voters in Istanbul on 23 June struck a big blow to President Recep Tayyip Erdogan, the authoritarian leader of Turkey, amid a deepening economic crisis. This is the first time in Erdogan's 17-year rule that his right-wing capitalist party, AKP, has been defeated in an election.

Irish health workers' anger boils over into strike action
On 24 June over 10,000 workers in the Irish health service took strike action, ignoring Taoiseach (prime minister) Leo Varadkar's last minute plea to call it off. This was the first day in a campaign of escalating strike action.

The Socialist inbox
Letters to the Socialist's editors.

TV: Years and Years – Engaging family drama pushes confused, reactionary message
The six-part political and family drama Years and Years follows one family from the present day over 15 years.