PDF
|
Audio
|
2020 Back issues
---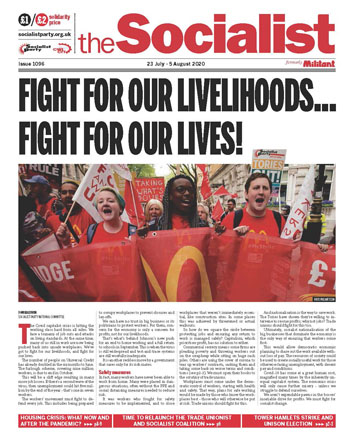 Click image for PDF

Fight for our livelihoods… fight for our lives!
The Covid capitalist crisis is hitting the working class hard from all sides. We face a tsunami of job cuts and attacks on living standards.

Fight for the NHS

Huawei: what's behind Johnson's latest u-turn?

Mandatory masks in shops law: workers must not pay the price
Face masks are mandatory in shops in England from Friday 24 July, following a similar move in Scotland

Luton Council sunk by airport investment: fight for funding, not speculation!
Labour-controlled Luton agreed drastic cuts to services at a full council meeting on 14 July. These are a direct result of a dramatic decline in dividend payments

Tories using pandemic to privatise NHS more

Them & Us

Hugely significant Tower Hamlets council workers' strike continues

Hugo Pierre for Unison general secretary
The worst-kept secret in public sector union Unison is finally out. Right-wing general secretary Dave Prentis has announced that he doesn't intend to stand in the next general secretary election

Housing crisis: what now and after the pandemic?

United Left general secretary hustings shows widest debate needed for left in Unite
In the vote following the hustings Steve Turner defeated fellow AGS Howard Beckett by 3 votes.

Nationalise Tata Steel to save jobs

Online rally: Fight the London transport funding cuts!

Continue the fight to protect safety

Debenhams: Fighting closures and redundancies
On 17 July protests were held in London, Leeds, Bradford, Plymouth and Glasgow, organised by Usdaw members and supported by activists from the wider trade union movement.
Trade Unionist and Socialist Coalition

Time to relaunch TUSC
The Socialist Party has written to the Trade Unionist and Socialist Coalition (TUSC) proposing that discussions begin on contesting the various elections scheduled for May 2021.

I joined the Socialist Party to fight back

Wales arts cuts: Save every job
Protesters brandished signs stating the basic demand of 'save every job'. This is the collective message of the organisers.

Trade unionists and artists stand with Maxine Peake
A call on Maxine's union, Equity, the wider union movement, and the entertainment industry, to support her

Bristol trans rights protest

Getting the Socialist over the summer

Saving the music industry from pandemic and austerity
"90% of UK venues and festivals face closure" warned a report from the Music Venue Trust in June. Like many other service industries, the live music business has been left on a cliff edge

Iran: Renewed wave of protests and strikes
A brief attempt to intimidate the thousands of Haft Tappeh sugar cane workers who have been on strike since 14 June (see 'Haft Tappeh sugar cane factory workers return to strike action' on socialistworld.net) was pushed back

Israel: Nurses strike and win

100 years since the foundation of the Communist Party of Great Britain

Exciting Cuban spy thriller exposes US-sponsored terrorism
Action-packed and exciting, Wasp Network is a spy thriller that tells the story of the 'Cuban Five'

The Socialist inbox