PDF
|
Audio
|
2021 Back issues
---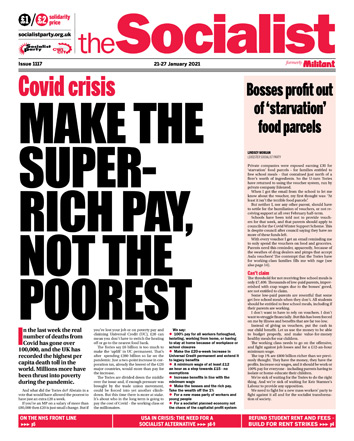 Click image for PDF

Make the super-rich pay, not the poorest

Bosses profit out of 'starvation' food parcels

Teachers: On the front line, in their own words

Peace and Justice Project – no way forward for socialism

Millionaire tendency regains control of Scottish Labour

News in Brief

The Tory blame game: scapegoating the working class – 100% pay for all now

Covid: Bosses chase profit and put workers in danger

Vaccine confidence – a worker's response

Life in lockdown – being home from school when you're poor is hard

On the NHS front line
It's so busy. There are so many patients. For weeks now there have been more Covid patients than there were in the first wave. Almost every ward has been given over to treating Covid now.

Justice for Mohamud Hassan!

Police use Covid laws to intimidate BLM protesters
On Saturday 16 January, around 15 Black Lives Matter activists gathered by Parliament Square, in London, to protest the tragic death of Mohamud Mohammed Hassan after being released from police custody in Cardiff

New Cross Gate fire 40 years ago

USA in crisis – the need for a socialist alternative

Trump Twitter ban: only independent workers' voice can defeat right

PCS Broad Left Network conference
PCS Broad Left Network (BLN) joint equality officer and PCS NEC candidate

Rolls-Royce Barnoldswick factory future secured following strike action
The future of the Rolls-Royce factory in Barnoldswick, Lancashire, and its 350 jobs has been secured after a deal was agreed between the workers' union Unite and the company

Morrisons – £10/hr headline hides divisive pay offer
Almost five years since the £10 an hour minimum wage demand was adopted by Usdaw, Morrisons has become the first major company in which Usdaw represents workers, to accept the demand.

A day in the life of an agency worker

British Gas strike continues

Refund student rent and fees
Socialist Students has launched a petition to build support for its demands on the way forward for the student movement and to solve the crisis in higher education.

Plymouth rent strike continues
We have now surpassed 400 signatures for our rent strike, with over £710,000 pledged to be withheld. For students there is no equivalent to the furlough scheme, and we're expected to hand over the majority

Scrap fees, refund rents and pay a living grant

London's May elections: Tories and Labour's Khan both vying to slash public services

Socialist Party national women's meeting

Why I joined the Socialist Party
Before I started educating myself, I'm sorry to say that, in part, I fell for the media coverage of 'scrounging benefit cheats'. Documentary footage of someone saying they couldn't afford to buy food, before showing their large expensive-looking TV and other gadgets, did wind me up, as someone who has a disability and has had to rely on charity to fill in the gaps in state provision.

Christmas Crossword Competition

Books that inspired me: The Road to Wigan Pier

Obituary – Jeff Edwards