PDF
|
Audio
|
2021 Back issues
---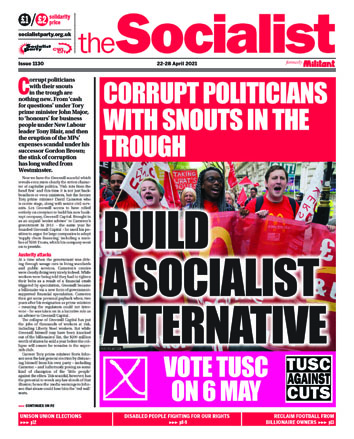 Click image for PDF

Build a Socialist alternative

Capitalism discriminates against us – Disabled people fighting for our rights
"My experience has been a humiliating financial nightmare …I first tried to claim disability benefits in the 1990s…"

Football: no trust in billionaire owners – kick them out and reclaim the game

Left candidate, Pedro Castillo – surprise of Peruvian elections

USA: cop killings and the anti-racist movement

Superpowers' tensions continue to ratchet up

Don't trust the Labour right's empty promises

Fight to stop cuts

Keep Liverpool council's One Stop Shops open

Liverpool hustings – only TUSC has a strategy to take on the Tories

Essex: Why I'm standing for TUSC
The Tories in Essex County Council want to cut £46 million from public services. There's nothing left to cut!

Carlisle campaign day success

Socialist Party northern region meeting
On Wednesday 14 April, the Socialist Party northern region held a public meeting to discuss the need for socialists in our local councils

With public campaigning back in full swing – now is the time to raise fighting fund

Socialist Party members – part of a left challenge for Unison's leadership

Fight back against British Gas bosses' 'fire and rehire' offensive

Retail workers desperately need a fighting and democratic union

CWU BT ballot – time for action now!

Thurrock bin workers solid in strike against pay cuts

Bus workers protest Go-Ahead's 'fire and rehire'
The Go-Ahead group runs bus services in Manchester and is currently using 'fire and rehire' to cut drivers' pay and conditions. Go-Ahead is also a big operator in Transport for London (TfL).

Ballots to defend reps on Woolwich Ferry

PCS leadership ballot underway

Long Covid: Fight for jobs, benefits and services

Climate change – Johnson spouts 'greenwash 2.0'

Covid and precarious workers – union organisation vital

News in brief

Housing activists storm rental firm's offices
A lively and energetic day of action on housing swept through East London on 17 April. Socialist Party members, Refugee Rights activists, housing campaigners, striking workers and others protested outside

Protests continue against proposed anti-protest laws