PDF
|
Audio
|
2021 Back issues
---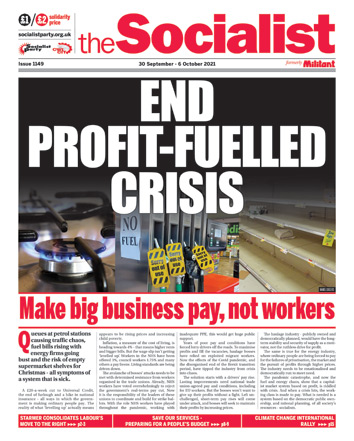 Click image for PDF

Starmer consolidates post-Corbyn Blairite transformation of Labour
Bakers' union votes to disaffiliate from Labour; Trade unions must fight for a new workers' party.
The person who said New Labour was "intensely relaxed about people getting filthy rich" is now intensely happy about the results of this year's Labour Party conference. Architect of Blairism, Peter Mandelson, is "thrilled" at this "tremendous win for Keir Starmer".

German election: A change of capitalist government, but disaster for Die Linke
The result of the Bundestag elections on 26 September heralds a new political period for Germany. The two big 'peoples parties', the social-democrat SPD and Christian-democrat CDU/CSU bloc, have massively

Save our services

End profit-fuelled crisis

NHS workers reject 3% pay insult

Driver shortages – a view from the inside

News in brief

Black history month and its relevance today

CWI livestream rally report

NEU deputy general secretary election
A fighting strategy to win on workload, pay and cuts: This government left it to the very end of last term to confirm that its 'reward' to teachers for all their relentless hours of work during the pandemic would be to cut their pay!

Corby and Burton Latimer Weetabix engineers strike
Engineers at Weetabix worked throughout the pandemic to feed the nation. Weetabix profits increased by nearly 20% to £81 million in 2020, yet the company is intent on using 'fire and rehire' to drive

Fightback to save Birmingham GKN jobs!
Rank-and-file members of Unite in the Chester Road GKN workforce in Erdington, Birmingham have voted overwhelmingly for an all-out strike

Flexibility to suit workers not the bosses

College workers walk out in pay dispute

London tenants v greedy contractors

Bromsgrove protest for NHS fair pay

Sabina Nessa vigil: End violence against women
Six months and here we are again, remembering another woman murdered. That was one of the big emotions on the vigil for Sabina Nessa near her home in Kidbrooke, south London.

Join the fight for our future

Sunak's student special

More market chaos: York students given digs in Hull

Lots of sign-ups for Socialist Students at freshers

Youth climate protests are back